Meet Dr. Michelle Zielecki
Quality Chiropractic Care For Belleview and Marion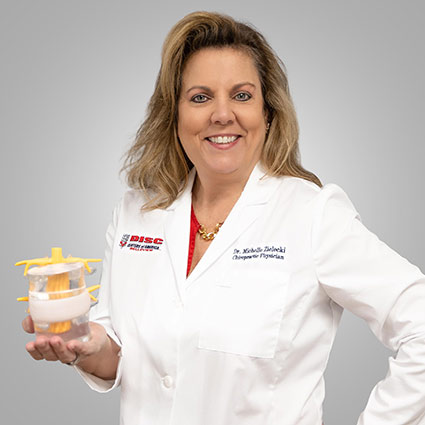 Dr. Michelle Zielecki is originally from Berwick, Pennsylvania, but moved to Belleview at an early age and remained in this community until moving up to Marietta, Georgia, where she completed her undergraduate studies at Life University. She graduated with a Bachelor's of Science in Nutrition and then went on to earn her Doctorate of Chiropractic Degree, graduating in 1998.
A Variety of Specialties
Dr. Zielecki immediately returned to her hometown community where she worked as an Associate Chiropractic Physician at Belleview Chiropractic Clinic until she opened her own chiropractic practice in The Villages for the next 15 years. Her clinic focused on treating patients with injuries as a result of Auto Accidents as well as utilizing Spinal Decompression as a Non-Surgical technique, saving hundreds of patients from undergoing unnecessary spinal surgeries. After enjoying her own successful practice, she decided to return back to her original home.
Nationally Certified
During her career, she has become nationally certified in non-surgical spinal decompression and peripheral neuropathy from Parker University. This unique certification program has been approved by the International Medical Advisory Board for spinal decompression and is the first decompression program of its kind to be offered in America.
She is also a Certified Chiropractic sports physician and certified in whiplash and brain injury traumatology by the Spine Research Institute of San Diego. She also is a Certified Florida Worker's Compensation Physician and has advanced training in golf biomechanics and spinal injuries.
Dr. Zielecki will continue to work with family-centered chiropractic care, auto accident cases as well as spinal decompression. Dr. Zielecki focuses on non-drug pain management programs to assist her patients in obtaining relief while getting structural correction.
Outside of the Office
Dr. Zielecki also enjoys time on the water as a U.S. Coast Guard Licensed Captain, taking families on fishing trips, scalloping trips as well as swimming with the manatees in the beautiful Crystal River and Homosassa Springs. She has one daughter named Chelsea and two beautiful Australian Shepherds named Winnie and Shelby.
Schedule Today
Contact our office today to schedule your appointment. We look forward to meeting you soon!
---
Dr. Michelle Zielecki | (352) 245-0145